Bagging Scale
Dispersion Chutes
UHMW - Available in Colors
Build up on food processing and packaging equipment results in forced outages, and has been a problem for food processing/packaging plants for decades. Oily fines can build up and release, causing packages to have a disproportion of unwanted product in the package, causing customer complaints. To keep production lines running efficiently, stainless steel equipment can require cleaning as much as every 2 to 6 hours. Forced outages result in thousands of pounds of lost production, as well as, an increase in clean up cost.
LinkTech VersaPoly® Quadrant Chutes can greatly reduce, or eliminate, build up caused by sticky products or fine particles. UHMW chutes also prevent dry statically charged materials (fines) from building up on the chute surface, then releasing a large charge to the scale system.
LinkTech produces this equipment utilizing UHMW to match your needs, i.e. Anti-static, High-Temperature, Anti-microbial and/or Textured. UHMW also allows for the softer impact of the product, resulting in noise reduction.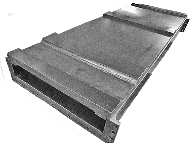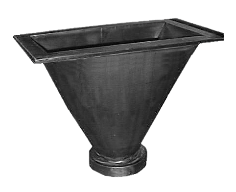 Batching Discharge
Hopper